Mulch & Topsoil Pickup or Delivery in Maryland
All Landscape supply can handle all your bulk or bag mulched needs and stock only the highest quality products including the following:
Bulk Mulch
Dark Double Shredded Mulch
Premium Dark Bark
Red Oak Tan Bark
Pine Fines
Black Double Shredded
Black Triple Shredded
Red Mulch
Mahogany Mulch
Brown Mulch
Premium Wood Chips (playground)
Aged Wood Chips
Bagged Products
Bagged Mulch
Pine Bark Mulch
Cedar Mulch
Red / Black
Licorice
Pine Fines
Leaf Gro
Soil
Topsoil Screened
Topsoil & Eco-Gro Blend
Fill Dirt
Eco-Gro (soil enrichment)
Leafgro
Masonry Sand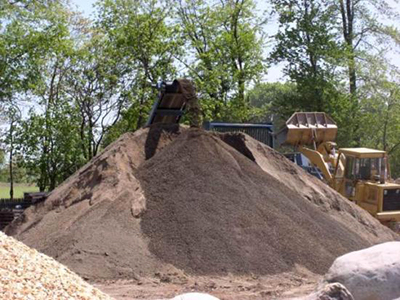 View more photos of mulch, topsoil, and more.

Make sure to check out our bulk price lists for complete product listings, sizes available and prices. We can deliver full truckloads and dump trucks full of mulch, topsoil and landscape stone.
Landscapers and Contractors call for large quantity wholesale / bulk pricing.
Gift Certificates Available (for all landscaping supplies).
Visa and Mastercard Accepted
If you are doing searches for Mulch Near Me or Stone Near Me make sure to call today because we deliver. Mulch and stone delivery is available to most parts of Carroll, Howard, Baltimore, Montgomery, Anne Arundel and Frederick County MD including:
Annapolis Junction
Brookeville
Clarksville
Columbia
Cooksville
Dayton
Elkridge
Ellicott City
Fulton
Glenelg
Glenwood
Granite
Halethorpe
Hanover
Henryton
Highland
Ilchester
Jessup
Laurel
Lisbon
Marriottsville
Mount Airy
Oella
Savage
Simpsonville
Sykesville
West Friendship
Woodbine
Woodstock
20129
20701
20723
20759
20763
20777
20794
20833
21036
21041
21042
21043
21044
21045
21046
21075
21076
21104
21150
21163
21723
21737
21738
21765
21771
21784
21794
21797